Museu de Marinha (Maritime Museum)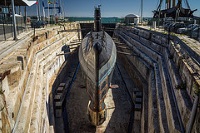 The Navy Museum (Museu de Marinha) of Lisbon is dedicated to all aspects of the history of navigation in Portugal. The museum is administered by the Portuguese Navy and is located in the touristic district of Belem. It occupies a part of the neo-Manueline Western wing of the Jeronimos Monastery, together with the National Museum of Archaeology, as well as a modern annex built to the North of the monastery.
With such maritime icons as Vasco de Gama and Bartolomeu Dias, its no wonder that Portugal's Maritime Museum is one of the best in Europe, evoking a sense of what it was like when the victorious Portuguese dominated the high seas. Visitors can marvel at the hundreds of models of 15th- to 19th-century sailing ships, merchant marine vessels, fishing boats and pleasure boats as well as a full range of Portuguese naval uniforms, including one worn at a Mozambique military outpost in 1896.
Address: Praça do Império, 1400-206 Lisboa, Portugal
Website: www.museu.marinha.pt