Pinacoteca di Brera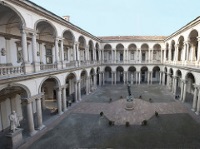 Pinacoteca di Brera © Davide Oliva
Housing one of Italy's finest collections of medieval and Renaissance art, the 17th-century Pinacoteca di Brera is by far the best collection of northern Italian paintings. Many of the masterpieces here were secured by Napoleon, who used the Palazzo as a storeroom for all the art he confiscated from public and private holdings. An imposing bronze sculpture in his likeness greets visitors as they enter the courtyard. Three of Italy's great masterpieces can be found here, namely Andrea Mantegna's Dead Christ, Raphael's Betrothal of the Virgin, and Piero della Francesca's Madonna with Saints (the Montefeltro Altarpiece). The collection also includes notable works by Caravaggio. One of Milan's most popular tourist attractions, the Pinacoteca di Brera houses mostly religious art and will impress even the uninitiated with its vast collection and the stunning building, which is an attraction in its own right. The paintings and sculptures are well arranged and, unlike some galleries in Italy, there is a decent audio guide in English to supplement the information mounted for each painting, the majority of which are in Italian. There is a student cafe off from the main courtyard where visitors can get refreshments.
Address: Via Brera 28
Website: www.brera.beniculturali.it
Telephone: +39 02 722 631
Opening times: Open Tuesday to Sunday from 8.30am to 7.15pm. Closed Mondays, New Years Day, 1 May and Christmas Day.
Admission: Adults: €10, Concessions: €7