Lilongwe Nature Sanctuary and Wildlife Centre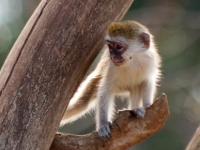 A bay vervet monkey © .robbie
Set in the heart of Malawi's capital, the Lilongwe Nature Sanctuary is home to the Lilongwe Wildlife Centre, a new and exciting 'People and Wildlife' wild animal rescue and rehabilitation facility. The nature sanctuary is the city's only remaining wilderness area and the Lilongwe Wildlife Centre also serves as an education centre aiming to teach visitors about the rich diversity of Malawi's fauna. A luxury tourist lodge has been opened in the Nature Sanctuary and guests will not only benefit from being able to stay in this wilderness area within the city bounds, but a part of the profits will be donated to the centre's work.
Website: www.lilongwewildlife.org
Transport: Between Old Town and the city centre, near Foodworths.