Poklonnaya Hill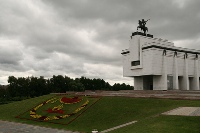 Poklonnaya, literally meaning 'bow down', lies in the west part of Moscow and was historically a spot for Western visitors of the city to pay homage before entering the city. Today it is a beacon to Russia's military strength, having withstood invasions by both Napoleon and Hitler. Atop the hill is Victory Park which provides a scenic walk and contains a memorial Mosque and Synagogue for victims of the war and an open air museum dedicated to the victory over Napoleon.
Address: 3 Pobeda Square
Telephone: 495 142 4185
Opening times: 10am-7pm daily except Mondays and the last Tuesday of each month.