Poklonnaya Hill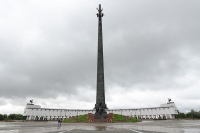 Victory Park, Poklonnaya Hill, Moscow © Guenni88
Poklonnaya Hill means 'bow hill', and lies in the west part of Moscow. Historically, is was a spot for Western visitors to pay homage to the city before entering. Today it is a beacon to Russia's military strength, having withstood invasions by both Napoleon and Hitler. Atop the hill is Victory Park which provides a scenic walk and contains a memorial Mosque and Synagogue for victims of the war, and an open air museum dedicated to the victory over Napoleon. There are many tanks and other wartime vehicles on display in Victory Park, along with several impressive monuments and statues. History buffs will love exploring the many attractions of Poklonnaya Hill and Victory Park, and even those not interested in military history will enjoy the art and the views.
Address: Moscow, Russia.
E-mail: info@poklonnaya-gora.ru
Website: www.poklonnaya-gora.ru/en
Telephone: +7 499 148 8300
Transport: Disembark from the Metro at Park Pobedy.