Baconao Park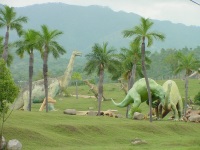 Baconao Park © rdmazo
The large park region, which is a World Heritage Biosphere Reserve, is filled with attractions, including wildlife refuges and coffee plantations. It is possible to climb 459 stone steps to the summit of the huge rock, La Gran Piedra, and stand 4,049ft (1,234m) above sea level for a beautiful view. It is said that on a dark night, one can see the lights of Jamaica in the distance.
The park boasts extremely varied attractions and their relation to a general theme is not always obvious but there is an attempt to move chronologically through history beginning with the prehistoric and ending with the Cuban revolution. In the Valle de la Prehistoria visitors are awed by dozens of life-size model dinosaurs and other prehistoric creatures lurking in lush vegetation.
There is also a magnificent 45-hectare (111-acre) garden, the Jardin Ave de Paraiso, dating from 1860, that was laid out on a former coffee plantation and features a series of colour-coded gardens with unique scents and displays in each. An artistic community consisting of 10 families have formed a fieldstone hamlet, offering artwork of a high standard at Comunidad Artistas Oasis.
There is also an Auto Museum, an aquarium, and multiple museums dedicated to Cuban history and the revolution. This is the area from which Castro planned the July 26th movement and it is of huge national importance to the Cubans. At Baconao Park there really is something for everyone.
Address: Poblado de Siboney