Borodino Panorama Museum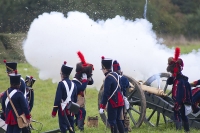 The battle of Borodino is regarded as the bloodiest of the Napoleonic battles, seeing over 70,000 casualties in a single day and leading Napoleon to brand the Russians as 'invincible'. The Borodino Panorama Museum was inaugurated in 1960 and serves as an exhibit of artefacts and displays from the Napoleonic wars, with a collection of wartime memorabilia on one level and the enormous panorama on another. The panorama referred to in the name is, incidentally, not an outdoor view but a 360º painting by Franz Roubaud depicting a crucial moment in the battle itself. The mural is 115 meters long and 15 meters high.
The museum will delight military history buffs, but should also impress the less initiated. Those with smartphones can download the museum's interesting audio guide, helped along by free wifi.
Address: 38 Kutuzovsky Avenue
Website: www.1812panorama.ru/english.html