Broadway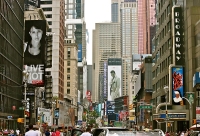 Broadway, NYC © Alex Proimos
Going to the theatre is one of the most popular tourist events in New York and the shows on Broadway are world famous, boasting some of the best productions in the world from blockbuster musicals to intense and intimate dramas.
There are ongoing shows that have been running for years, such as The Lion King, Phantom of the Opera, Chicago and A Chorus Line. Newer, edgier shows play off-Broadway, and may provide just as much entertainment at slightly lower prices.
This is one way to experience part of the American dream, even if only on vacation. There is something to entertain people of all ages.
Website: www.broadway.com