Museum of Communism (Muzeum Komunismu)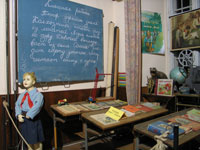 Ironically located next door to a casino and above a McDonald's, the Museum of Communism is dedicated to presenting an account of the post World War Two communist regime in Czechoslovakia, and Prague in particular. The museum covers the totalitarian regime from its inception in 1948 until its collapse in 1989. It offers an eye-opening look at life behind the Iron Curtain and leads visitors through the life of the Czech people during the times of the Soviet Union. With genuine artefacts on display, informative text, multimedia presentations and even a reconstructed classroom, interrogation room and soviet-era factory, the museum makes sure the memory is kept alive of what it brands 'Communism - the Dream, the Reality, and the Nightmare'. It aims to immerse visitors in the daily realities of life in the communist era. The museum covers all aspects of the totalitarian regime including daily life, the army, education, sport, politics, economics, propaganda, censorship, and art. All in all, this little museum is very informative and offers useful insight into the communist period of Czech history, information which enriches an exploration of Prague with historical background and a sense of all the city has been through.
Address: Na pÅ™íkopÄ› 10
E-mail: muzeum@muzeumkomunismu.cz
Website: www.muzeumkomunismu.cz
Telephone: 224 212 966
Opening times: Daily from 9am to 9pm including holidays, except 24 December
Admission: Adults: 190 CZK; Concessions available.