Castillo de San Pedro del Morro (Morro Castle)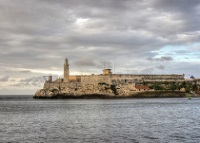 Castillo de San Pedro del Morro © Rodger Evans
Santiago's most impressive structure is poised ominously atop the cliffs at the narrow entrance to Santiago Bay, about nine miles (14km) south of Santiago. This enormous piece of military architecture, a maze of stairways and dungeons, was begun in 1640 and was originally built to defend the bay from pirates and naval attack.
The Morro was rebuilt in 1664 after the English pirate, Henry Morgan, reduced it to rubble. At one stage in its long history the castle was also used as a prison before being converted once again into a military fortress. The castle now houses the Museum of Piracy, featuring excellent displays on piracy, colonialism and slavery. There are old blunderbusses, muskets, cutlasses and Toldeo blades in glass cases.
The Morro is one of the best-preserved 17th-century Spanish fortresses in the world and it has been declared a UNESCO World Heritage Site. There are amazing views from all over the fortress and many enviable photo opportunities. There is also a restaurant on the terrace. The Morro is a fascinating place to explore and visitors to Santiago are encouraged not to pass this attraction up.
Address: Six miles (10 km) southwest of the city centre, near the bay