Changdeokgung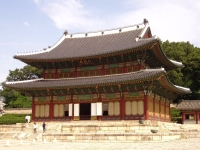 Changdeokgung © Daderot
One of the Five Grand Palaces built by the kings of the Joseon Dynasty, Changdeokgung is set within a large park in Jongno-gu and the whole complex has been included on the UNESCO World Heritage list. Located east of Gyeongbok, Changdeokgung is also referred to as the East Palace.
It was the favoured palace of many kings of the Joseon Dynasty and in accordance with the Three Kingdoms of Korea period, its buildings blend harmoniously with the natural landscape. At least 600-years-old, this historic site is one of Seoul's touristic gems. The colourful and intricate architecture is set in expansive gardens, a peaceful green place which is ideal for a meditative stroll.
Address: Jongno-gu
Website: eng.cdg.go.kr/main/main.htm
Telephone: +82 (0)2 762 8261/9513
Transport: Subway line 3, Anguk Station, Exit 3. Subway lines 1, 3 or 5, Jongno 3-ga Station, Exit 6.
Opening times: The Palace's operating hours are generally 9am to 6pm but these times can change depending on the season. Check website for details.
Admission: KRW 3,000 for adults and children (7-18) KRW 1,500. Children under 7 are free.