Changdeokgung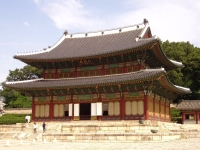 One of the 'Five Grand Palaces' built by the kings of the Joseon Dynasty, Changdeokgung is set within a large park in Jongno-gu and the whole complex has been included on the UNESCO World Heritage list. Located east of Gyeongbok, Changdeokgung is also referred to as the East Palace. It was the favoured palace of many kings of the Joseon Dynasty and in accordance with the Three Kingdoms of Korea period, its buildings blend harmoniously with the natural landscape.
Address: Jongno-gu
Website: www.eng.cdg.go.kr/main/main.htm
Telephone: +82 (0)2 762 8261/9513
Transport: Subway line 3, Anguk Station, Exit 3. Subway lines 1, 3 or 5, Jongno 3-ga Station, Exit 6.
Opening times: 9am to 6.30pm from April to October, 9am to 5.30pm from November to March. Closed on Mondays. Visitors can only view the palace complex as part of a guided tour. The English tours leave the ticket office at 11.30am and 2.30pm daily.
Admission: 3,000 Won (adults), 1,500 won (children). Access to the secret garden costs extra. Visitors can buy a combination ticket for 10,000 won which includes access to Gyeongbok Palace, Changdeok Palace (and secret garden), Changgyeong Palace, Deoksu Palace and