Jogyesa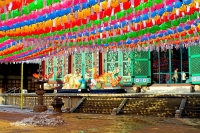 Jogyesa © parhessiastes
Jogyesa serves as the primary temple of the Jogye Order of Korean Buddhism. First established in 1395, Jogyesa is located in the district of Jongno-gu in central Seoul. In 1998, Jogyesa made international news when several monks occupied the temple for more than 40 days in a power struggle between factions of the Jogye Order.
A highlight of this attraction is a lacebark pine, an ancient white tree within its grounds said to be around 500 years old. The principles of Buddhism have been taught at this temple for more than a century and visitors keen to interact with the monks and learn something about their faith can join one of the temple's teaching programmes.
Address: Gyeonji-dong, Jongno-gu.
Website: www.jogyesa.org