Estádio do Maracanã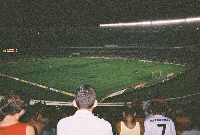 Maracana Stadium © donabelandewen
Proudly hosting the opening and closing matches of the 2014 Soccer World Cup, and still the largest soccer stadium on the continent, seating a crowd of more than 95,000, Rio's Maracana has seen many records set. The stadium is currently used to host the local soccer league games, and is the home of the Brazillian soccer team. The Maracana is also often used by international acts visiting Brazil as a performance venue, with Madonna and Sir Paul McCartney among the big names who have played here. Inside the ground is a Hall of Fame honouring soccer greats such as Pele, Roberto Dinamite, Romário, Valdo and Bebeto, all of whom have been honoured by having their footprints cast in the sidewalk. A guided tour will take you through the hall, where you can enjoy a display of historical photographs and a great panoramic view of the city, among other things.
Address: Rua Professor Eurico Rabelo
Website: www.maracana.com
Opening times: Open daily, from 9am to 5pm
Admission: Basic tour costs BRL 30; Premuim Tour costs BRL 50.