Emilio Bacardi Moreau Museum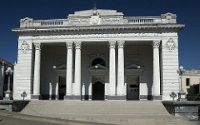 Emilio Bacardi Moreau Museum © CNPC Cuba
Bacardi, the world's largest family-owned spirits company, started producing rum in Santiago way back in 1862. The family was forced to flee Cuba after the revolution in 1959, and Bacardi drinks are not found in Cuba today, but the brand still strongly associates itself with the country.
Interestingly, it was the fruit bats that nested in the rafters of the original rum factory that gave Bacardi rum its world-famous bat logo. The company's current production sales exceed 240 million bottles a year, in about 170 countries.
Emilio Bacardi's private art and antique collection is still in Santiago, as is the original family rum distillery, and it is this collection that you can view in the Emilio Bacardi Moreau Museum. It is not a rum museum or a distillery tour but an eccentric collection of the famous family's historical artefacts and art.
A fun and educational outing, the Emilio Bacardi Moreau Museum is well worth a visit when in Santiago. Budget at least an hour to take in all the sights the museum has to offer. Those who want to take photographs in the museum must ask permission and pay an additional fee.
Address: Calle Pio Rosado No. 552 e/Aguilera y Heredia