Orto Botanico di Brera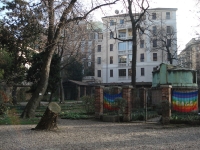 Orto Botanico di Brera © Giovanni Dall'Orto
The Orto Botanico di Brera is a botanical garden located behind the Pinacoteca di Brera in the centre of Milan, and is operated by the Istituto di Fisica Generale Applicata of the University of Milan. The garden was established in 1774 under the direction of Maria Theresa of Austria, transforming an existing Jesuit garden used by students of medicine and pharmacology. The garden has greenhouses from the 19th century that are now used by the Academy of Fine Arts, as well as flowerbeds and elliptical ponds from the 18th century. Orto Botanico di Brera is home to one of the oldest ginkgo biloba trees in Europe, and various other mature botanical specimens can be found within the grounds. It is a true plant-lover's paradise and a wonderful place to take a stroll and admire the romantic features. The Orto Botanico di Brera is small by botanical garden standards but is well worth visiting for its historical charm and the originality of the mixture of art and nature that often results from the influence of the Academy of Fine Arts. Locals enjoy reading, relaxing and soaking up the sun in this lovely green area and the fact that most tourists never discover the rather well-hidden garden is probably a blessing, as it remains a peaceful and beautiful refuge.
Address: Brera Palace, Via Brera
Website: www.brera.unimi.it/eng/museo/orto/index.html
Telephone: +39 02 50314680
Opening times: Open Monday to Friday from 9am to 12pm, and 3pm to 5pm, and on Saturday from 10am to 5pm.
Admission: Free