Edinburgh Festival Theatre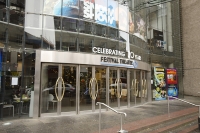 Edinburgh Festival Theatre © Dancewear Central
The Edinburgh Festival Theatre is used primarily for musical events and touring groups, and it is one of the main venues for the annual summer Edinburgh International Festival, as well as being the year-round venue for the Scottish Opera and the Scottish Ballet. This historic location is Edinburgh's oldest continuous theatre site: there has been a theatre on the site since as far back as 1830. After decades of illustrious but tumultuous performances, in 1963 the theatre became a bingo hall for nearly thirty years, but was still occasionally used as a festival venue.
It re-opened in June 1994 with a glass-fronted structure as the new entrance and a dramatic mix of art nouveau, beaux-arts and neo-classicist architecture, and now has adequate acoustics, serving all the artistic requirements of the community, and seating nearly 2,000 people. There are frequent children's plays and performances at the theatre, making it a good option for families. The Edinburgh Festival Theatre is supposedly one of the city's many haunted buildings, stalked by a tall, dark spectre rumoured to be the famous illusionist Sigmund Neuberger (The Great Lafayette), who was one of a number of performers burnt to death in a stage fire at the theatre in 1911.
Address: 13/29 Nicolson Street
Website: http://www.edtheatres.com/
Telephone: +44 (0)131 662 1112
Transport: Within walking distance of Waverley rail station.