Constitution Hill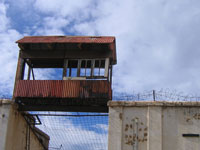 A guided tour of the National Heritage Site of Constitution Hill takes visitors on a journey through South Africa's turbulent past, but also illustrates its incredible transition into democracy. Tours of Constitutional Hill include: The Number Four prison, a dark and terrible place where Mahatma Ghandi, Robert Sobukwe and Nelson Mandela were all incarcerated, along with many other victims of the racial hierarchy; The Old Fort, built in 1893 and one of the city's oldest buildings, which was a prison for white men, including British prisoners of war during the Anglo Boer War; the Women's Prison, a pretty Victorian building where political activists like Winnie Madikizela-Mandela and Albertina Sisulu endured terrible suffering, and infamous murderess Daisy de Melker was incarcerated; and the Constitutional Court, the institution responsible for ensuring that the human rights horrors that once characterised Constitution Hill will never occur again. Tours must be booked in advance via the official website listed below. Tours take about an hour and a half and are very informative. The Constitutional Court is open to the public. Exploring Constitution Hill provides an interesting overview of the prison system during Apartheid and it is one of Johannesburg's most fascinating historical attractions.
Address: Constitutional Court, Johannesburg
E-mail: visitorcentre@constitutionhil.org.za
Website: www.constitutionhill.org.za
Telephone: 011 381 3100
Opening times: Monday to Friday 9am to 5pm (last tour at 4pm); Saturday 10am to 3pm. Closed Sunday.