Santa Ifigenia Cemetery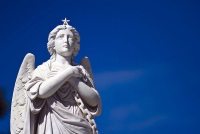 Santa Ifigenia Cemetery © Jack Wickes
Santa Ifigenia Cemetery was officially founded in 1868 - although some of its graves are older - and declared a National Monument in 1937. It now shelters a number of important historical and cultural figures including war heroes and famous politicians and artists.
The gateway to this cemetery is dominated by a memorial to Cuban soldiers who died fighting in Angola. From here, the visitor is led to the impressive tomb of Cuban national hero, revolutionary and writer Jose Marti. The tomb is in the form of a crenulated hexagonal tower with each side representing one of Cuba's six original provinces. The round mausoleum is designed so that the sun will always shine on Marti's casket, which is draped with the Cuban flag.
The cemetery also contains a shrine to the Virgin of Charity, Cuba's patron saint, in the form of the Basilica del Cobre. This little church is said to be the scene of miracles performed by the saint. It is a very attractive cemetery with a number of impressive and quite original tombs and strolling around it is intriguing; a lot can be learned about a culture from the way they commemorate their dead.
Address: Av Crombet