Hector Pieterson Memorial Site and Museum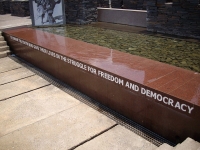 Hector Pieterson memorial, Johannesburg © Thomas.macmillan
Hector Pieterson became the iconic image of the 1976 Soweto Uprising in Apartheid South Africa, when a news photograph of the dying Hector being carried by a fellow student was published across the globe.
He was just 12 years old when the police opened fire on school children who had gathered to protest the imposition of Afrikaans as a medium of instruction in township schools. The protest was intended to be peaceful but became a violent confrontation when police demanded that the students disperse; students threw stones and police fired bullets.
News of the bloodshed ignited uprisings across the country in which 550 people were killed. Hector was one of the first to die on that tragic day. The museum fuses memorabilia with modern technology and cultural history and is located two blocks away from where Hector was killed.
Hector's sister Antoinette, who is seen in the famous photograph holding her hands out in panic, worked for many years at the museum as a tour guide. The 16 June is a public holiday named National Youth Day in South Africa, to honour the courage of the youth that stood up to the apartheid regime, and young people in general.
Address: Hector Pieterson Sq., corner of Khumalo and Pela Sts., Orlando West, Soweto