Cradle of Humankind and Maropeng Visitor Centre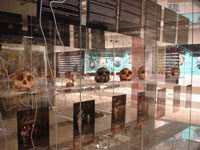 Exhibition at the Maropeng Visitor Centre © thomas_sly
The Cradle of Humankind is a UNESCO World Heritage Site and contains a complex of dolimitic limestone caves, including the well-known Sterkfontein Caves, where the fossil Australopithecus africanus (nicknamed Mrs. Ples) was found in 1947 by Dr Robert Broom and John Robinson.
'Mrs Ples' is estimated to be between 2.6 and 2.8 million years old and ranks high on the long list of australopithecine discoveries for which Sterkfontein is now famous.
At present, only the Sterkfontein Caves and the Wonder Cave are open to the public. The Maropeng Visitor Centre is a stirring, world-class exhibition space, focusing on the development of humans and our ancestors and evolution over the past few million years.
The museum has fun interactive exhibits which the whole family will enjoy. Visitors should note that the best option for fully appreciating the visit is buying the combination ticket for the caves and the museum, but this ticket is only available before 1pm as the tour takes some time.
There are a number of restaurants at the centre, both upmarket and casual, and some picturesque picnic sites for those who prefer to bring their own food. There is a range of accommodation at the centre for those who want to spend a night or two.
Website: www.maropeng.co.za