Bell Tower (Campanile di San Marco)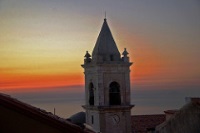 St Mark's Bell Tower © Luca Volpi
Originally built in the 9th century, this 318-foot (97-metre) bell tower is the highest structure in Venice and offers visitors breathtaking views of the cupolas of St. Mark's, the lagoon, its neighbouring islands and the red rooftops and church domes of Venice. When the air is clear, one can even spot a snow-capped peak of the distant Dolomite Mountains but, strangely enough, not one canal can be seen from this bell tower. Despite the fact that Venice appears to be a dry city from this vantage point, the tower once served as a kind of lighthouse to assist navigation on the lagoon, and the views of this piece of water are magnificent. The tower collapsed unexpectedly in 1902 and was rebuilt exactly as before, even rescuing one of the five historical bells that are still in use today (each bell was rung for a different purpose, such as war, the death of a doge, religious holidays, etc). The bell tower is extremely popular, for good reason, and queues for visitors can get very long, especially on weekends, so it is best to visit during the week if possible and to arrive early to avoid the crowds. Be sure to take along your camera! Kids will love this attraction as well, so it is a great outing for the whole family.
Address: San Marco, Piazza San Marco
Website: www.visit-venice-italy.com/bell-tower-venice-italy/bell-tower-saint-mark-venice-opening-hours-visit-price.htm
Telephone: +39 041 270 8311
Opening times: Open November to April from 7am to 3.45pm; and in July to September from 9am to 9pm.
Admission: €8 (adults)