Times Square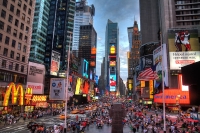 Times Square, NYC © Terabass
Though it is ultimately just an intersection at the corner of Broadway and 42nd Street, Times Square has achieved iconic status. In a single frame, it successfully represents the hive of activity that is New York City.
Flashing advertisement and huge billboards produce a headache-inducing but memorable sight. Times Square is used in countless films, televisions, programmes, and literature. It is the base for ABC's Good Morning America programs and MTV's popular Total Request Live.
Thousands gather annually for New Year's Eve in the square to see the famous ball-dropping ceremony. Since 2009, Times Square closed to traffic and visitors can now enjoy strolling and sitting at their leisure, not worrying about the city's notorious taxis and bustling vehicles.
Address: Corner of 42nd Street and Broadway
Website: www.timessquare.com