Rockefeller Centre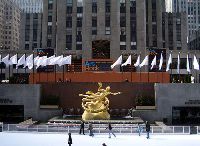 Rockefeller Centre © matchity
Named for the man who developed the space, the world's first dollar billionaire, John D Rockefeller, this 22 acre (8ha) land houses a plethora of iconic New York City attractions. Radio City Music Hall used to be the most popular tourist venue in the city and still ranks highly among visitors. Radio City has hosted multiple awards shows such as the Grammies, Emmies and MTV Music Awards. It is also a concert venue frequented by today's popular performers. The GE Building, the address for which the popular TV series 30 Rock is named, is the home to Saturday Night Live and the site from which the eerie 'Lunchtime atop a skyscraper' photograph was taken. At the base of the GE building is the Rockefeller Ice Rink with the golden statue of Prometheus at its head. Underneath Rockefeller Plaza is the Concourse, an underground pedestrian mall boasting designer brands and food outlets.
Best views of New York City? The Rockefeller Center's eight level viewing platform and the pinnacle of the Empire State building duke it out for top honours in this contest. The winner might be the Rock because it alone offers great views of the iconic Empire State building among its 360 degree vistas of the city below. There are both indoor and outdoor viewing areas, so it's suitable to visit in all weather. The best and most popular time to visit is half an hour before sunset when one can experience both the day and night time views. Book ahead online and skip the queue for your slot.
Address: Between 48th and 51st Streets; and 5th Avenue and 6th Avenue, Manhattan
Website: www.rockefellercenter.com
Opening times: 8am-9pm
Admission: Rockefeller Center Tour: $17. Viewing Platform: $27 (adult), $17 (child).