Larnaca District Museum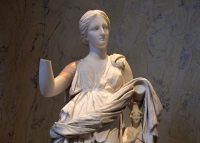 Kiteon Statuette © Carole Raddato
Within walking distance of the town centre is the modern Larnaca District Museum, which contains an interesting collection of antiquities found in the Larnaca area, dating from the Neolithic to the Roman periods. Well-lit displays feature archaeological finds from Kition, including a ceramic collection with alabaster vases, tools, coins and lamps. Wall cases hold diverse pieces like faience scarabs, limestone seals, bone implements and engraved stone blocks.
There are four galleries and the objects are arranged in chronological order so that the visitor can get a more complete picture of the historical development of the ancient city of Kition and the District of Larnaka in general. There is a little garden attached to the museum which features a number of statues and is worth strolling around.
Note: The museum will be closed for renovations from the 8th May 2017 until November 2017.
Address: Kalogreon Square.
Telephone: 24 304 576