Washington State Ferries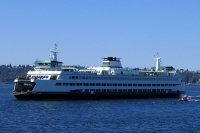 Seattle Ferry © Kandykornhead
A quintessential part of experiencing the city is a ferry ride to Seattle. Coffee mugs are adorned with ferries, little model ferries are offered to tourists as trinkets, ferrying is a culture and a way of life to Seattle residents, many of whom commute to work across the Union Lake and Elliot Bay areas. Wake up early and drink your morning coffee, Seattle's other cultural pastime, on the water with the friendly locals.
If possible, try to plan sight-seeing of the city around several ferry trips going from point to point, which allows for maximum sightseeing. Trips to local attractions like the San Juan Islands are available on the ferries, as well as trips to Victoria in nearby Canada. Be sure to remember a passport and any other necessary and valid travel documents before embarking on a ferry ride to Victoria. Ferries are operated by Washington State Ferries and a schedule is available on their website.
Website: www.wsdot.wa.gov/ferries/
Admission: Prices vary based on distance and type of transport.