Bimini Islands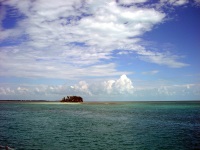 Bimini Islands, Bahamas © Matt Kieffer
The Bimini group of islands in the Bahamas is 50 miles (80km) east of Miami and spans an area no larger than 10 square miles (26 sq km). The main island, North Bimini, is barely seven miles long (11km) and no more than 1,200ft (366m) across at its widest point.
The islands are best known for the excellent fishing opportunities, with visitors from around the world coming here to test their skills in the hunt for tuna, sailfish, mako shark, barracuda, and, above all, blue marlin.
This was exactly the goal of the islands' most famous fishing enthusiast, Ernest Hemingway, who lived in Bimini for two years in the 1930s. The small hotel (and bar) where Hemingway lived burnt down tragically in 2006 after it was converted into a Hemingway museum.
Almost all the action on the Bimini Islands happens in Alice Town, a laidback town on the main island of North Bimini where fishermen gather to swap stories. However, the town is known to change its tune during April spring break when crowds of raucous college students descend on Alice Town.
Scuba divers too are lured to Bimini by mysterious stone blocks in the waters off the island of North Bimini, known as the Bimini Road, which islanders claim are part of the lost city of Atlantis. The Bimini Biological Field Station, located on South Bimini Island and commonly called the Sharl Lab, is one of the world's top marine research and conservation centres, and is a major contributor to our understanding of life in the ocean.