Andros Island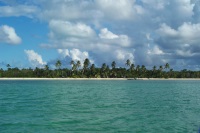 Andros Island © Rs3
Andros is the largest island in the Bahamas and is a favourite for scuba divers and fishermen. The island is largely undeveloped, so the atmosphere is very casual and hotels tend to be small and unpretentious. Much of the island is covered with palm savannahs, primeval forest, and huge mangrove wetlands, which make it a wildlife fanatic's paradise.
However, it is the underwater life that really makes Andros unique: it has the world's third largest barrier reef running along its east coast for 167 miles (269km). Andros' most famous attractions are the Blue Holes, a network of water-filled caves, both inland and in the ocean, that draw scuba divers from all over the world.
The colourful and unique marine life that lies below the tranquil surface makes Andros a fantastic spot for divers, snorkellers, and fishermen. Some of the world's first dive-dedicated resorts are located on the island, both running regular scientific research dives as well as purely recreational ones. Recreation is to be had on land as well, with Andros hosting several festivals throughout the year, including an annual regatta, a conch festival, a pirate festival, and a seafood festival.