Ancient Kition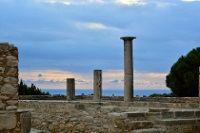 Ancient Kition © Sarah Murray
Kition was an ancient city state on the southern coast of Cyprus, in today's Larnaca. The state was originally established by the Greeks as Kittim in the 13th century BC. In the northwest of Larnaca some of the ruins of ancient Kition can still be seen, featuring the remains of five temples dating back to the 13th century BC. Of particular interest is the Phoenician Temple of Astarte, which was built on the ruins of an earlier Bronze Age temple.
The lower part of the northern city walls, built of huge stones resembling Mycenaean cyclopean walls, are also still visible. Wooden walkways allow visitors a view of the excavation areas where many important artefacts have been discovered. Residents in Larnaca are still discovering artefacts all over the city, and a number of building projects in Larnaca have been abandoned due to fresh discoveries. It seems that a large portion of the ancient ruins actually lie beneath modern Larnaca. As is often the case with attractions in Cyprus, there is very little information at the site and it is best to do your research before visiting to fully appreciate the significance of what you are seeing.
Opening times: Monday to Friday 9am-2:30pm; Thursdays 3pm-5pm (except July and August).