Eleuthera Island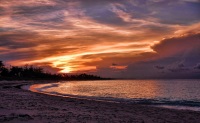 Sunset on Eleuthera © Trish Hartmann
Only 14 of Bahama's Out Islands are inhabited, leaving the rest largely free from resorts, cruise ships, and crowds. Eleuthera, which stretches for almost 100 miles (161km) but is at most two miles (3km) wide, is the most popular of the group. Eleuthera (and nearby Harbour Island, which is just a short water-taxi ride from the main island) has long been the holiday haunts of the fashionable set, sporting luxury hotels and fine restaurants that cater for trendy and wealthy visitors. Some of the more famous visitors in the past have included Prince Charles and Princess Diana, Robert de Niro, and the industrialists Arthur Vining Davis, Henry J. Kaiser, and Juan Trippe.
While the island used to be home to many glitzy resorts, these were all shut down after the Bahamas' independence in 1973. Today, Eleuthera is much more relaxed and low-key. The main entertainment here is sunbathing, swimming, snorkelling, shell-collecting, and fishing.
The scenery can be enjoyed through a meander along the coast, passing scenic headlands and wandering through villages dotted between dozens of pristine beaches. Natural highlights along the coast include Glass Window Bridge, the Hatchet Bay Caves, Surfer's Beach, and Ocean Hole, among others.
Once the capital of the Bahamas, Eluethera's Harbour Island is home to Dunmore Town, whose flower-lined streets and colourful New England-style buildings are popular with tourists in the Bahamas. Harbour Island's main attraction, though, is the spectacular pink sand beach. A product of the coloured shells that make up the sand, the beach takes advantage of the protection of a coral reef, offering tranquil waters and excellent swimming. The accommodation on Harbour Island caters mostly to wealthy travellers.