Half Moon Cay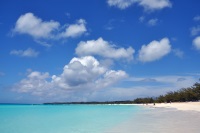 Half Moon Cay © James Willamor
This island is a private paradise, reserved for passengers who are tendered ashore by cruise ships. Those who have paid for the pleasure will not be disappointed. Half Moon Cay (pronounced kee) is an island, about 100 miles (161km) south of Nassau, which has been sensitively developed to preserve its natural assets and ecosystem, while ensuring it provides a fantastic day ashore for cruise passengers.
The main attraction is a surreal two-mile (3km) crescent of beach which gives the island its name - dotted with palm trees and home to flocks of captivating birdlife. All of the pristine facilities at the resort on Half Moon Cay are connected by a network of pathways, but those who prefer can catch a tram which runs continuously from the welcome centre to the food pavilion.
Visitors wanting to cure their 'sea legs' can take one of the peaceful walks along marked trails with descriptive signs pointing out the local vegetation, plants and birds. Activities on offer to visitors include swimming, snorkelling, scuba diving, jet skiing, horseback riding, volleyball, and cycling. A wide variety of watersport equipment is also available for hire, including catamarans, windsurfers, and kayaks.