Church of Ayios Lazaros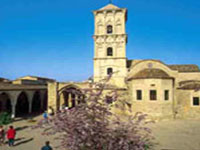 The 9th-century church devoted to St Lazarus that stands in Larnaca is an important religious institution on Cyprus. Lazarus is believed to have lived at ancient Kition for 30 years after his resurrection by Jesus Christ, and was ordained Bishop of Kition by Saints Barnabas and Mark. The Church was built by the Byzantine Emperor Leo VI above what was believed to be the empty grave of Lazarus, whose final resting place is in Marseilles, France.
Eight days before the Greek Orthodox Easter each year the Baroque wood-carved icon of Saint Lazarus normally stored in the church is carried in a procession through the streets of the town. This beautiful little church is only a few yards from Larnaka Beach and is easy to find. The interior is richly decorated and there is an atmosphere of profound peace. Visitors are asked to be considerate in their dress so be sure to cover up appropriately and behave respectfully in this important place of worship. It is recommended that women wear a scarf or hat on their heads.
Address: Plateia Agiou Lazarou
Website: www.ayioslazaros.org
Telephone: 24 652 498