Krong Kep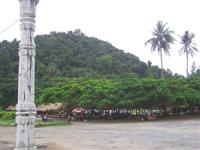 Kep, Cambodia © Vanina W.
From Phnom Penh, a great excursion is the formerly lavish resort town of Krong Kep. Although once a famous high-society destination, called The Pearl of the Orient, Kep is now more of a rustic fishing village; a peaceful and charming destination for those who like to travel off the beaten track. The Khmer Rouge did a number on this town, but the ruined villas of the rich now add to Kep's crumbling mystique. A beautiful coastal road, slivers of beaches, jungled mountains, and the nearby Rabbit Island provide present day visitors with a beautiful setting.
For the best restaurants in town, and arguably the best seafood in Cambodia, try the shack-like buildings near the water and order the crab. The Crab Market, made up of a number of these shack-like restaurants, is delightfully relaxed and friendly. For an authentic experience it is best to avoid the more expensive places and dine where the locals do. There are also wonderful, rustic picnic platforms at Kep Beach where you can settle down and be served freshly caught seafood from vendors, most of whom speak at least a little English. Kep is around a three-hour taxi ride from Sihanoukville, or a four-hour bus ride from Phnom Penh.