Blind Massage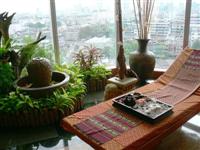 Cambodian travel can often be jarring; hard beds, bumpy roads, death defying taxi drives, and many hours spent sightseeing on foot can leave a body in ill shape. Seeing Hands is a business employing blind masseurs and masseuses to work out those tourist kinks. Cambodia gives few opportunities to disabled workers and supporting Seeing Hands has its own karmic rewards, but visitors will be even more satisfied by the quality of the massage. The city offers a host of dodgy 'massage' houses and knowing a place is reputable is relaxing in itself. The centres are all comfortable and peaceful and visitors can change into loose cotton pyjamas and completely unwind in very capable hands. You are able to choose the strength and duration of your massage; note that typically massages are quite hard so it is worth requesting a gentle one if this is not your style. Paying a visit to one of these centres is undoubtedly a pleasurable way to support a worthwhile Cambodian charity. There are three Seeing Hands centres in town, all offering massages for about $6. This is a very reasonable rate but don't forget to tip. It is considerate when tipping to use $1 bills as apparently these are easier for the blind to handle.
Address: 6 Street 94, At Wat Phonm, Phnom Penh
Telephone: (0)16 856 188
Opening times: Open daily 9am till 7pm.
Admission: From US$6