Larnaca Medieval Museum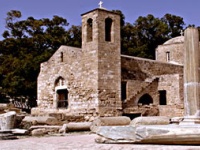 Fort Larnaca © Cyprus Tourism Organisation
This fascinating and well-stocked museum is housed in the upper level of the Larnaca fort on the city's seafront. The fort itself is the main attraction of the museum it houses; it was built in 1625 by the Turks to defend the city from invasion (there is still a Turkish inscription above the doorway). Later it was used as a prison during the early years of British rule. One of the most popular attractions in Larnaca, the fort also operates as the Larnaca Municipal Cultural Centre during the summer and hosts local cultural events. The museum collection itself is fairly small but impressive, containing displays from the early Christian, Byzantine, Lusignan and Ottoman periods, as well as 12th to 18th century pottery, photos of historical sites and a collection of firearms, helmets and swords dating from the 15th to the 19th century. There are great views from the top of the building which offers a lovely opportunity for taking photographs. The fort is so close to the sea that visitors walking around the sea wall might be ankle-deep in water. Beyond the fort there is a long street of restaurants and cafes where visitors can find refreshments and take a break from sightseeing.
Address: Larnaca Fort
Opening times: Open Monday to Friday.
Admission: €1,70