Choirokoitia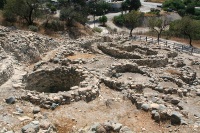 Choirokoitia © Ophelia2
About 20 miles (32km) from Larnaca, on the Lefkosia-Lemesos road, archaeological excavations have revealed one of the oldest Neolithic sites on Cyprus, dating to 7000 BC. Choirokoitia (also known as Khirokitia) was home to primitive farmers who cultivated wheat and barley. Visitors can explore the settlement's defensive wall, circular houses and tombs.
The site is close to the dry Maroni riverbed atop a hill that was once covered in dense vegetation. It was first excavated in 1934, but excavations by French archaeologists are continuing. Four of the beehive-shaped houses made of mud and stone have been reconstructed to show how these early farmers lived. Most of the archaeological finds from Choirokoitia are displayed in the Cyprus Museum in Nicosia.
The ruins are a UNESCO World Heritage Site and really worth a visit for anybody interested in ancient history or archeology. You will have to do a little climbing up the hillside to see the excavations and it is probably best to wear decent walking shoes and bring a water bottle; it should, however, be manageable even for the unfit.
Address: 32km from Larnaka, off the Larnaka – Lemesos highway
Website: www.larnakaregion.com/directory/product/choirokoitia-neolithic-settlement