Mandalay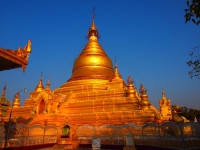 Kuthodaw Pagoda, Mandalay © Paul Arps
Mandalay is Myanmar's second-largest city and the former royal capital of the Burmese kingdom. The city is modernising rapidly, due largely to an influx of Chinese money and businessmen, and while amenities and infrastructure are improving many feel that the charm of old Mandalay is receding. Travellers arriving with no past knowledge of the city won't be burdened by comparison and will no doubt find Mandalay enchanting.
A good place to start a visit here is to hike up the 780-foot (240m) stairwell to the top of Mandalay Hill, itself a holy site with an ornately decorated temple and Buddha statue overlooking the former capital city and far-reaching flatlands. Dominating the city's centre are the 150 year-old palace grounds of King Mindon and King Thibaw, with an adjacent temple and wide surrounding moat. More than 50 people were buried alive during construction; and a prison visible below is a reminder that human rights are still a contentious issue. For local travellers the Mahamuni Buddha is one of the most important pilgrimage sites for Buddhists in Myanmar.
Aside from sightseeing, shopping is Mandalay's major pastime. A fun jewel market, where visitors can watch craftsmen shape gems, is worth a visit. Crafts such as monk's umbrellas, gold leaf, ornate furniture, and lacquer-ware are made and sold in the city. Motorbike taxis seem a bit overeager in a city where horses and wagons are traditionally more common; better to use the trishaw and fall into Mandalay's slow rhythms. Bland guesthouses are splashed about the city offering cheap accommodation, but there are a few gems awaiting tired travellers.