Missoula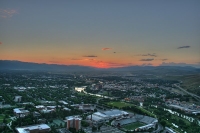 Missoula and the surrounding scenery. © Prizrak 2084
The 'Garden City' doesn't have much in the way of gardens but Missoula is an outdoor sportsman's Eden. Situated right in the middle of cowboy-land, this is a liberal hub of hippies, students and outdoor nuts. Downtown is a collection of unique shops and lively bars where it is easier to walk or bike than drive.
The University of Montana starts right where the hill ends and is a beautiful campus to wander, or catch a football game to see the definition of school spirit.
Tourists often visit Missoula for outdoor activities of all kinds from skiing, kayaking, hiking and rock climbing to hang-gliding and mountain biking. Festivals from Ale Fest (beer) to Testy Fest (cow balls) make their home here, so come ready to celebrate and play.
Website: www.ci.missoula.mt.us