Jumeirah Beach Park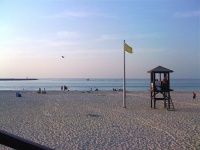 Jumeira Beach Park © bettyx1138
One of the main reasons holidaymakers flock to Dubai is to take advantage of the stunning beaches. If visitors aren't staying somewhere with access to the sand and sea, and don't want to pay AED 100 or more to use a hotel's facilities, then Jumeirah Beach Park is a brilliant alternative. The beaches are clean and safe, and unlike some of the other public areas in Dubai, are not populated with 'gawkers'. There are even designated 'women only' sessions. The park section of the beach is equipped with barbecue facilities and seating areas. There are also showers and toilets on the beach, and lifeguards on duty at all times.
Address: Opposite Chilli's Restaurant on the Beach Road, Jumeirah
Website: www.dubaicity.com/jumeirah-beach-park/
Telephone: +971 4 349 2555
Opening times: Daily 7:30am-10pm. Closes 11pm Thursday and Friday.
Admission: AED 5 per person or AED 20 per vehicle.