Dubai Mall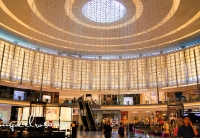 Dubai Mall © Marc Gerard Del Rosario
Opened in November 2008, the Dubai Mall is the world's largest shopping centre and is home to around twelve hundred retailers. It is the size of more than fifty football pitches and features an ice rink, movie theatres, playground, aquarium, hotel, and is the gateway to the Burj Dubai: the tallest building in the world. The mall is home to a number of the world's best known stores including Bloomingdales, Marks and Spencer and Montblanc. Designers such as Stella McCartney also have outlets in the complex and world famous jewellers Tiffany & Co. have a branch located there. The mall also has a number of restaurants ranging from fast food to fine dining. No trip to Dubai would be complete without an outing to Dubai's latest shopping spectacular.
Address: Financial Centre Road (Interchange 1), Dubai
Website: www.thedubaimall.com
Telephone: +971 800 382246255
Transport: The Dubai Mall Shuttle Bus: The mall has 12 shuttle buses operating routes to the mall from a number hotels in and around Dubai. Check the mall's website for details.
Opening times: Saturday to Friday 10am-11pm.