Bhubing Palace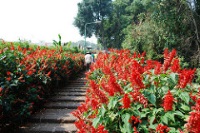 Bhubing Palace Flowers © Alpha
The royal winter palace of Bhubing has beautiful, regal structures and extravagantly landscaped gardens for visitors to take in. The palace may not be entered but the gardens can be explored when the Thai royal family is not in residence. The gardens of Bhubing Palace are known for their stunning roses, and are home to a variety of bird and insect life. Visitors can walk up to the Queen's water fountain and find some shade under a pagoda. There is a strict dress code which must be adhered to when visiting this royal site, including a ban on shorts and dresses that show the shoulders.
Address: Doi Buak Ha, Doi Suthep
Website: www.bhubingpalace.org
Opening times: 8.30am to 4.30pm, closed when the Royal Family is in residence.
Admission: THB 50 for foreigners.