Caw Caw Interpretive Center and Charleston County Park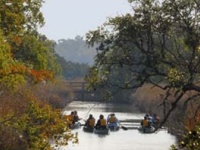 Set in the Caw Caw Swamp, the Caw Caw Interpretive Center is home to vast natural, cultural and historical displays. Dating back to the 18th century, this formerly slave-worked rice paddy exhibits earthen dikes, rice trunks and canals. Many species of plants and animals can be seen in the wildlife sanctuary, from beech-holly forests to bald eagles and otters. Self-guided canoeing is possible (fee is $10 per canoe), as is cycling, hiking, rock climbing, and more.
The park features 6 miles of trials, including elevated boardwalks through the wetlands where visitors can sometimes see alligators moving through the swamps. Swallow-tailed Kites and Bald eagles, both rare bird species, can also be found here.
Address: 5200 Savannah Highway, Highway 17 South Ravenel
Website: www.ccprc.com
Telephone: (843) 889 8898
Opening times: Wednesday to Sunday, 9am to 5pm
Admission: US$1