The Hunley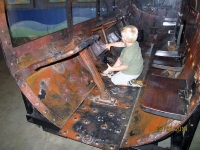 Hunley Submarine Replica © lns1122
The Hunley was the world's first successful combat submarine, built on President Abraham Lincoln's orders during the Civil War. The submarine first arrived in Charleston by train 1863, proceeding to sink the warship USS Housatonic in 1864.
During the attack, it sank and remained a mystery for many years. Modern navigation tools finally discovered the submarine in 1995, brought to land both for preservation and in order to piece together the history of the submarine's final hours.
The submarine is now on display in a conservation tank at the Warren Lasch Conservation Center on the Cooper River. Visitors can see facial reconstructions of the Hunley crew, artefacts excavated from the submarine, and the legendary gold coin that supposedly saved the captain's life.
Website: www.hunley.org