Provost Dungeon and Old Exchange Building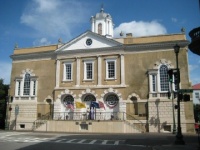 The British used Provost Dungeon to hold prisoners during the American Revolution, and in 1774 the Old Exchange Building hosted the delegate elections for the First Continental Congress. Before this momentous occasion, the Exchange Building was built in 1772 in order to assist with the heavy import and export trade taking place in Charleston. The Exchange was built in the Palladian style of architecture with a facade constructed from imported Portland stone. This site was firmly constructed and has (in part) withstood war, earthquakes and even hurricanes. Part of the Half-Moon Bastion was excavated here and is the only visible section of the old Charles Town fort.
Today, the Old Exchange Building and the Provost Dungeon are run by the South Carolina Society of the Daughters of the American Revolution, and all three floors of the main building are open to the public as a museum focused on the city's history and its role in American history. Visitors are also taken through the dungeon and told about the many pirates that were kept there during the 1800's. The Old Exchange Building regularly hosts symposiums on topics relating to Charleston's history, and the building is also available to rent after hours as a function venue.
Address: 122 East Bay Street
Website: www.oldexchange.org/