Cowboy Hall of Fame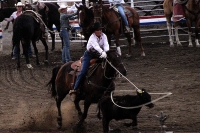 Cowgirl © CGP Grey
The North Dakota Cowboy Hall of Fame pays tribute to Native American and cowboy cultures, including trail drives, ranching, and rodeo. This is where the memories of famous local cattlemen and rodeo stars will live on forever.
There is a lovely patio available to visitors and meeting rooms can be booked as well. As a great complement to the Hall of Fame, head to the Burning Hills Amphitheatre to watch the famous Medora Musical, which celebrates Old West life.
Address: 250 Main St, Medora
Website: www.northdakotacowboy.com
Telephone: (701) 623 2000
Opening times: May to September, 9am-6pm. By appointment at other times.
Admission: $9 adults, free for children.