The Chrysler Museum of Art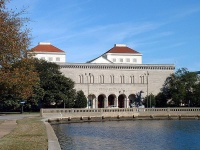 Chrysler Museum of Art © Gosscj
Originally founded in 1933, the Chrysler Museum of Art is located on the waters of The Hague, in the Ghent district of Norfolk, and is home to the art collection of Walter P. Chrysler, Jr. Over time it has increased its collection significantly and is one of Norfolk's most esteemed attractions. The museum is family-friendly, and kids especially will love the Daniel Rozin interactive installation.
Address: 1 Memorial Place
E-mail: info@chrysler.org
Website: www.chrysler.org
Telephone: (757) 664 6200
Opening times: Tuesday to Saturday 10am-5pm, Sunday 12am-5pm, closed Monday.
Admission: Free.