St Patrick's Cathedral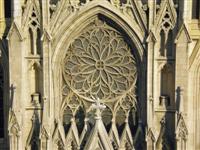 St Patrick's Cathedral © David Shankbone
St Patrick's Cathedral is a magnificent example of the geometric style of Gothic architecture that was popular in Europe in the 13th century. It is the seat of the Roman Catholic archbishop of New York and the largest Catholic cathedral in the United States.
With its spires soaring 330 feet (100m) into the air, and the ornately detailed entrance, this is undoubtedly one of the city's most spectacular buildings. St Patrick's was built between 1850 and 1878 and its giant organ has over 7,300 pipes.
To most New Yorkers and harried tourists, St Patrick's is most valued for its peace and tranquillity. It's very much an active place of worship and although tourists are welcome they should show respect, especially during church services. Guided tours are available.
Address: Fifth Avenue, between 50th and 51st Streets
Website: www.saintpatrickscathedral.org
Opening times: The Cathedral is open daily from 6.30am to 8.45pm.
Admission: Free