Grand Central Station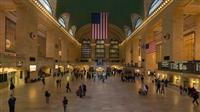 Grand Central Station © Diliff
One of New York's most famous and best loved landmarks, Grand Central was opened in 1913 opposite Rockefeller Center. It is one of the world's largest train stations, with 44 platforms, but its true distinction is its magnificent architecture
Its striking ambiance, anchored by enormous windows and the refurbished ceiling, covered by a detailed astronomical fresco. The terminal houses a number of good restaurants, budget-friendly eateries, and speciality shops. The 12,000 sq ft Vanderbilt Hall regularly houses public events.
Don't miss the one-hour guided tour; book several weeks ahead in peak season to avoid disappointment. Grand Central sees about double the amount of visitors every day as it does commuters.
Address: 110 E. 42nd St.
Website: www.grandcentralterminal.com