The Gorge Amphitheater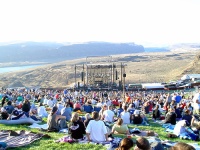 High on the cliffs above the Colombia River, The Gorge is one of the best music venues in the country. A natural ravine coalesces at a cliff edge where a large stage hosts the biggest acts on tour in the Northwest. The 25,000-seat venue is privy to both the stunning view and sound quality resulting from the natural theatre-like setting. Visitors usually spend the night at Gorge campground in front of the venue. Here, all manners of cars, campers, RVs or simple tents are scattered across for an often rowdy night of celebration.
The Gorge is in George, Washington, an easy three hour drive east from Seattle on the I-90 highway. There is very limited motel accommodation nearby and the isolated nature of the area means it's better to pack your own. The venue is the host of the annual Sasquatch Festival each May, and some other festivals that have been hosted there include Area:One, Area2, Litlith Festival, Ozzfest, Creation Festival and the Vans Warped Festival. Some big names that have performed in the amphitheatre over the years include The Who, David Bowie, Coldplay, Pearl Jam, Tom Petty, Dave Matthews Band and many more.