Mozart's Birthplace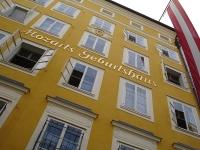 Mozart's birthplace © Jonathan White
Wolfgang Amadeus Mozart was born in 1756 at his family's home in Getreidegasse. The house has since been converted into a museum displaying exhibits which include the violin played by Mozart as a child, his concert violin and clavichord, a pianoforte and various portraits. The museum was first opened in 1880, by the International Mozart Foundation, and restored in 1994. It is now said to be one of the most frequently visited museums in the world. Tours of the museum are available but need to be arranged in advance. A basic tour of the exhibition takes about an hour. The museum provides a fascinating introduction to the Mozart family and how they lived, as well as detailing the early life of Wolfgang Amadeus.
Address: Getreidegasse 9
Website: www.mozarteum.at
Telephone: (0)662 844 313
Opening times: Open daily 9am to 5:30pm. Open until 7pm in July and August.
Admission: €10 (adults) and €3.50 (children aged 6 - 14). Concessions available.