The Alamo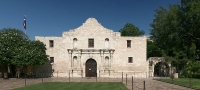 The Alamo © Daniel Schwen
The Alamo has assumed mythological significance in American culture. The Alamo was originally built as a mission by Spanish priest in 1724, and was named Mision San antonio de Valera. In 1794, the Spanish missionaries secularized the land and gave it to the converts living there in order to continue their farming.
However, in the early 1800's the Spanish military stationed a cavalry at the old mission station, and it's then that the place's history began to change. The cavalry men began calling the mission the Alamo, a reference to their hometown in Spain, and during the following wars over Texas, the Alamo played a very important role. Davy Crocket and his small party held out for 13 days against a 2,500-strong Mexican army before finally being overrun and executed.
The Alamo is now described as the cradle of Texan liberty and for years after the siege Texans would cry "Remember the Alamo" during battle. The actual Alamo building is smaller than most visitors expect, and its gravitas slightly undermined by tacky amusement park rides and souvenir shops. That doesn't daunt millions of annual visitors who make a pilgrimage here, often without really knowing why.
Address: 300 Alamo Plaza
Website: www.thealamo.org