Riverwalk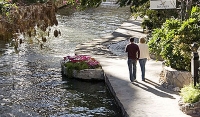 River Walk © Kkmd
The centre of San Antonio's shopping and dining district, the Riverwalk winds its way for five miles (8km) along the banks of the San Antonio River. Visitors can explore the Rivercenter Mall along the way and take a stroll around La Villita Historic District.
An equally good way to enjoy the lush landscaping and scenic variety of the Riverwalk is take a narrated cruise or dinner cruise with one of the many river boats. Over 20 events take place every year along the Riverwalk, such as Downtown Residents Thirsty Thursdays, Fiesta Noche del Rio, the Memorial Day Arts and Crafts Show, the Ford Canoe Challenge, Riverwalk Lucky Duck Race, Light Coffins on Parade, Caroling Nights with Santa, Fiesta de las Luminarias, and many more.
The cobbled walkways are a full level below the city's streets lending the Riverwalk a secluded, peaceful atmosphere, and cooling atmosphere during the summer heat. The Riverwalk is a good place to go for a night out on the town whe in San Antonia, as there are plenty of restaurants and bars all along the winding path. some famous attraction found along the Riverwalk are the Pearl Brewery, the Alamo th San Antonio Museum of Art and Arneson River Theatre and La Vilita.
Website: www.thesanantonioriverwalk.com